Synopsis: The Firm Foundation Christian Fellowship Men of Integrity have come together to write this powerful 30-day devotional to inspire men of all ages from the scriptures.
It is an easy-to-read day by day devotional that will challenge, inspire, uplift, strengthen, and bless the readers! It is a powerful gift just in time for Father's Day!
The inspirational topics will encourage you in faith, choices, courage, leadership, servitude, stewardship, wisdom, and many more areas that strengthen us in the faith!
You will be blessed, challenged and inspired by this devotional to stand strong for the LORD like the men of scripture such as Noah, Abel, Abraham, Job, Moses, David, Daniel, Joseph, Paul, Peter and many more!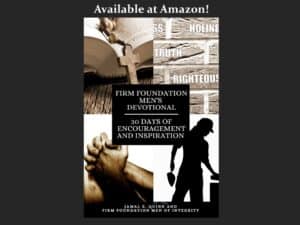 Click link for additional information or to purchase!