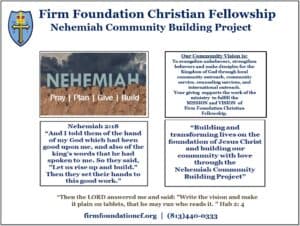 Greetings in the Blessed name of our Lord Jesus Christ!
Thank you for visiting our Nehemiah Community Building Project page!
The Nehemiah Community Building Project is named after a man of God in the Bible by the name of Nehemiah, who answered the call of God to lead the rebuilding of the walls and gates of the Temple at Jerusalem. He also had a vision and heart for God to serve, help and restore the lives of people in the community of Jerusalem.
The times have changed but God's vision remains the same! We have been called to serve, help, restore, build and transform lives on the foundation of Jesus Christ in our community, county, and city! 
How do we do this?
By  outreaching and serving our community with love through the Nehemiah Community Building Project and vision which is:  to evangelize unbelievers, strengthen believers, and make disciples for the Kingdom of God through local community outreach, community service, counseling services, and international outreach! 
Please partner with us in making an eternal difference for the Kingdom of God! Your love offerings and gifts are tax deductible and no gift is too big or small! When you give and partner with us, together we make a difference in our community, county, city and country for the Kingdom of God, lives are changed, and we reap the harvest and blessing together!
Blessings in Christ,
Jamal E. Quinn
Senior Pastor/Overseer