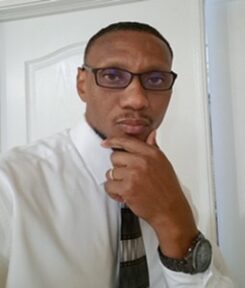 Pastor Jamal E. Quinn
is the Senior Pastor of Firm Foundation Christian Fellowship. After serving 21 years and retiring from the military in Sep 2005, he returned home to Riverview, a community of Tampa, FL., where the Lord led him to start a community Bible study by faith, preaching, teaching and sharing the Gospel in his neighborhood to family, friends and anyone that had an ear to hear. 
In Oct 2007, after faithfully serving in local ministries and churches for over ten years and conducting a Bible study group in his home. The LORD called Pastor Jamal and Prophetess Sheryl Quinn to plant Firm Foundation Christian Fellowship of Jesus Christ in the community of Riverview, Florida with a few faithful Bible study members.
Pastor Quinn is a shepherd, author, visionary, mentor, and watchman who preaches the Gospel of the Kingdom of our LORD Jesus Christ with apostolic zeal, passion, power and truth.  Pastor Quinn's passion is teaching, exhorting and encouraging men, women and youth to fulfill their God ordained destiny, and to live their lives as examples in Jesus Christ.
Pastor Quinn has served the Riverview community for 21 years. He also worked in the commercial sector for 10 years in Information Technology before being called to ministry. He is the author of eight self-published books under ML Excellence Publishing to include:  "Seven Hindrances to the Blessings of God,"  "How Good and How Pleasant it is: The Importance and Power of Unity,"  "Speaking the Word of God by Faith,"  "The Power of Prayer, Prophecy and Praise,"  "R" Daily Devotional: 40 Days of Restoration," God's Divine Purpose System: How God manifests purpose in your life"  and "Closer than a brother: A scriptural look at friends and friendship, and the collaborative Firm Foundation Men's devotional: 30 Days of Encouragement and Inspiration." 
He is also the author of the ML Excellence Devotional online, a devotional blog designed to encourage and evangelize with wisdom, and commentary from the scriptures! https://jamalquinn.com/
He received his Associate of Science Degree in Liberal Arts at Excelsior College, Albany, New York, and his Bachelor of Arts in Pastoral Ministry from South Florida Bible College and Theological Seminary, Deerfield Beach, FL.